Welcome to Southwest Tax & Accounting!
Established in 1988, Southwest Tax & Accounting has been a leader in Tax Preparation, Bookkeeping, and Payroll Processing in Morton County (Elkhart) KS. Together, our staff has over 77 years of combined experience in the services that we offer.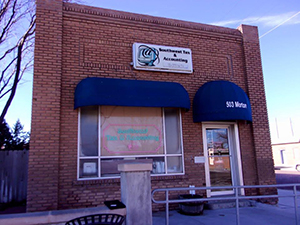 Owner, Terri Ryman, Enrolled Agent, leads our talented team of professionals. Ryman, who received a BA in Accounting at Southwestern College (Winfield, KS) and an MBA in Taxation from Rockhurst College (Kansas City, MO), highly values continuing education and ensures that all employees attend classes regularly. Terri became an Enrolled Agent (a designation bestowed by the IRS) in 1992. Other designations and licenses that Terri maintains include ATA (Accredited Tax Advisor), ATP (Accredited Tax Preparer), Certified QuickBooks Pro Advisor, NSSA (National Social Security Advisor), and CSA (Certified Senior Advisor).
Jenny Ryman, her daughter, earned her Enrolled Agent License in 2018. She works remotely preparing tax returns and is the bookkeeper for over 40 Businesses and Individuals. Jenny earned her Associate Accounting Degree from Seward County Community College in 2012. She typically takes 15-25 hours of continuing education each year and has worked at Southwest Tax & Accounting since 2007.
Jerry Ryman (Terri's husband) started preparing tax returns with Southwest Tax & Accounting in 2002. Before 2018, he only worked part-time during tax season. The rest of the year he is a Respiratory Therapist (currently at Memorial Hospital in Guymon, OK). More recently he has been working 25-35 hours per week, joining Josh Ryman at our office as our Information Technology Technicians. Between them they keep our computers updated, install new software, purchase new equipment, and so on.
Josh Ryman is Terri's youngest son. You can see that this is a real family business. Josh handles the front office, processing tax returns, greeting clients, and has his own bookkeeping clients numbering 10. He joins Jerry Ryman with Information Technology tasks (most recently downloading and installing the newest version of QuickBooks). He and Jerry also maintain the office Network, and make sure that our Security Protocols are in place and followed. Josh is also a Notary along with Terri and prepares payroll for most of his clients.
Together, our diverse and highly trained group of experts has all the tools and resources we need to manage your small business finances properly and effectively. Whether you need help managing QuickBooks, or you need assistance preparing payrolls, books, sales tax returns, or need trucking services (IFTA Tax Returns, UCR Registrations, etc.) we will help get you on the right track, allowing your business to flourish as it was meant to.
At Southwest Tax & Accounting, we go above and beyond to guarantee your complete and total tax legitimacy. We stand on a firm foundation of trust, honesty, and hard work, giving all our clients peace of mind in knowing that our services are perfectly executed. From tax preparation, accounting services, or audit representation, we strive to be a leader in small business financial services.
Look at just a few of the memberships that we are proud to showcase:
Member of the Morton County Chamber of Commerce
Member of the National Association of Enrolled Agents (NAEA)
Member of the National Association of Tax Professionals (NATP)
Member of the National Society of Tax Professionals (NSTP)
Member of the National Society of Accountants (NSA)
Member of the Public Accountants Association of Kansas (PAAK)
Southwest Tax & Accounting is more than just a list of accreditations and memberships; call us today and see for yourself why we are the most trusted small business financial firm in Southwest Kansas.